30 October 2018
Kentish Town charity shop opening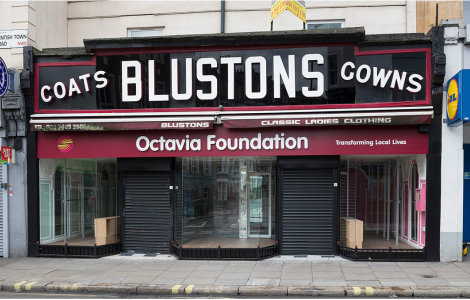 The iconic 'Blustons' clothes shop in Kentish Town will have a new lease of life next month when it re-opens its doors as an Octavia Foundation charity shop.
The Grade II listed shop in Kentish Town Road, was owned and run by the Bluston family, selling ladieswear, from 1931 to 2014.
Having stood empty and boarded up for many months, it will open its doors again to a new generation of discerning shoppers on Saturday 17 November, this time as a shop selling quality designer and donated clothes, shoes and accessories for women and men.
To celebrate the occasion, Octavia will be offering shoppers light refreshments and a free raffle ticket for a prize draw. The draw winner will receive a selection of luxurious designer treats and accessories.
Octavia Foundation charity shops have a reputation for high-quality donated goods, including designer and vintage pieces. They provide customers with an ethical and sustainable approach to shopping, with the profits from every sale supporting Octavia's work in the community.
Octavia took on the Kentish Town shop's lease earlier this year and refurbishment work has been going on behind the boarded up windows for several months. Last week the boarding was removed, revealing a spruced up store, that retains many of its original 1930s features.
On the outside, the Blustons original signs and iconic windows are shining and proudly back on display, while on the inside; great care has been taken to incorporate original features such as light fittings, cornicing and even the original wooden cash till, within the new shop display. Even the old electric meter boxes remain on show, as a reminder of the amazing history of the store.
Octavia Foundation Director Reena Mukherji said: "Octavia believes in supporting communities and it has been a joy for us to bring Blustons back to some of its former glory. We will be busy working on the finishing touches over the next couple of weeks. Local people have a great affection for this shop, so we are looking forward to being able to open its doors to them again."
The official opening of the new shop at 213-215 Kentish Town Road London, NW5 2JU, will be at 10am on Saturday 17 November.
All of the proceeds from Octavia's charity shops go to the Octavia Foundation, which helps more than 2,000 people in London each year, through helping prevent loneliness among older people, helping people into work and training and supporting and inspiring younger people.