15 January 2019
Shared-ownership upsizing to a 'forever home' in Dollis Hill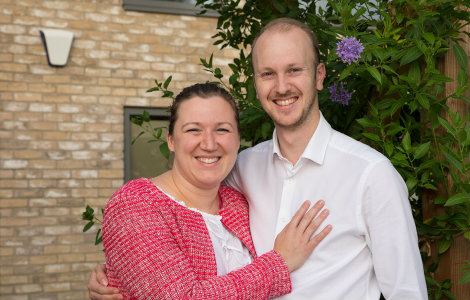 Jess Scudetti and Chris Palmer realised it would be difficult for them to afford to live in London after they met and decided they wanted to marry and start a family. Before embarking on their relationship they had both separately purchased shared ownership one bedroom apartments in north and west London. They realised they would need to move on to something larger to accommodate their planned future family needs and were searching for an area in London that they could afford.
Jess's shared ownership home was a flat on Octavia's attractive, mixed tenure, Gladstone Village development in Dollis Hill, NW2. It is a desirable area to live and close to the centre of London with good public transport links nearby. With Jess's work in sales just a short 15-minute drive away, and Chris's job as an HR Manager, within walking distance – the location was perfect for both of them, but upsizing in the same area through private sale was beyond what they could afford.
Then Jess found out about Octavia's bespoke shared ownership offer on family sized houses at Gladstone Village through her relationship with the Octavia sales team. After checking they fitted with the product's criteria, the couple jumped at the chance to apply to buy one of the four bedroom houses being sold under the scheme - and they were delighted when their application was accepted.
Chris, aged 31, said: "We consider ourselves very fortunate to be able to qualify to buy this home. The income criteria was quite strict but we understand why it had to be. Luckily we fitted all the criteria."
Octavia supported the couple through the sale of both of their shared ownership flats. Their shared ownership purchase of the new four-bedroom house, set over three floors with views of surrounding green space and Gladstone Park, was completed just after they married.
Jess, who is 30 years old, said: "It has meant a lot to us to be able to stay in this area. The location offers a lot of stability and security and we feel we have a good community around us. We already know most of our neighbours. It's also reassuring to know that we don't have to move to another area that we don't know just to be able to afford a home. We feel very privileged to be able to stay here and live in the home and area that we want."
Chris said upsizing from two shared ownership flats to one large house one was less complicated than he anticipated. "Octavia went out of their way to help us with the purchase," he said. Because the shared ownership scheme was their own, they were able to be flexible with waiting for our flat sales to go through. The sales team were helpful and the process of purchasing was simple and straight-forward."
And how do they feel now they are settled into their new home?
"It's perfect for us," said Jess. "It is such a great place to bring up children and to live so close to where we work will make a huge difference to our family life."
Chris added: "It's a big investment for us but we looked at the finances carefully and we have taken into account the benefits. We see this as the place we will live in for the rest of our lives. It's the place where we want to bring up children. This is definitely our 'forever home' and we intend to own it outright one day. It will take many years but this is our plan."