6 July 2021
Octavia stores get creative with 'Cruella' inspired window displays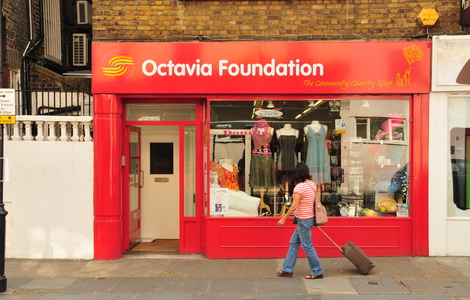 The avant-garde mannequin designs are encouraging local people to reduce, reuse and recycle by donating their unused and unwanted clothing to Octavia.
The pre-loved retailer's store managers were challenged to only use recyclable items such as magazines, newspapers, refuge sacks and canvas bags in their window displays – with striking results.
Reminiscent of Cruella's iconic window display in the latest Disney film, the high-fashion creations have been grabbing the attention of vintage fashionistas and casual shoppers alike.
Skirts, tops, dresses, hats and bags have been fashioned out of the unconventional materials to help spread an important message about conscious consumption, with several members of the public enquiring if any of the makeshift outfits are for sale.
The newly dressed mannequins are part of a campaign to encourage donations of stock to the charity including womenswear, menswear and accessories.
Famous for its fashionable window displays and carefully curated rails, Octavia's stores are a cut above your average charity shop.
Based in some of the trendiest neighbourhoods in London, staff double as personal shoppers and are happy to dole out styling advice for customers as they browse through a quality selection of high street and high-end labels.
Every penny of profit raised through Octavia retail goes towards our work in the community, including confidence building and inspirational projects for young people, employment and training support for local residents and befriending schemes and social activities for older, isolated members of the community.
Andrew Adair, Head of Retail at Octavia said: "Fast fashion leads to an enormous amount of clothing being thrown away each year and has a huge impact on the environment. According to social enterprise, Clothes Aid, 350,000 tonnes of clothing go to landfill in the UK every year. That's around 30% of unused items that equates to £140 million. The problem may be large, but the solution couldn't be simpler – reduce, reuse and recycle.
Our stores provide a fashion destination with a difference – selling second-hand items that help local people and the planet. For those that have clothes languishing unloved in their wardrobes, our message is clear – we need your unwanted items to help raise money so we can help people right here in our community.
Donating clothes changes lives. The life of a young person from a low-income family looking for the inspiration, connections and opportunities necessary to reach their full potential. And the life of an older person, isolated, cut off from the world and in desperate need of social contact. Help your planet and your community and please donate to your local Octavia store."
Looking to give your pre-loved pieces a new lease of life? Items can be dropped off at any of Octavia's stores during their opening hours: Monday – Saturday 10am-6pm and Sundays 11am-5pm. If you wish to make a donation and are unable to bring your items in, we are able to offer a collection service. See our website for more information www.octaviafoundation.org.uk/charity_shops/donate_to_our_shops