8 September 2014
Octavia's Bourbon lane set to feature in National Advert campaign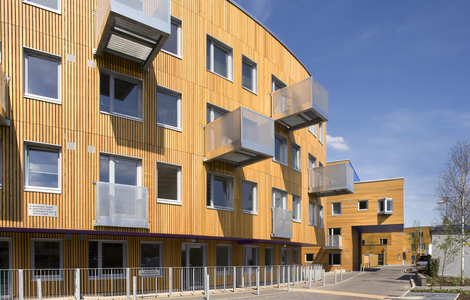 Octavia's Bourbon Lane scheme is winner of over 10 design awards and home to residents of 78 flats each with their own private balcony or outside space.
Now the scheme is set to become part of a National Advertising campaign for Business Innovation and Skill, featuring one of our partners, Cartwright Pickard who were architects on the scheme.
Bourbon Lane is one of Octavia Housings most well-known developments. Part of a S106 agreement with White City shopping centre developers, Westfield; the site needed to meet the challenge of not only integrating housing with the commercial development but also to facilitate the transition from the older, two-storey terrace buildings and communities of the existing neighbourhoods to the new commercial development.
In total, 78 dwellings were built including 45 homes for general needs rent and 33 homes for shared ownership. The design team did not use the traditional British terrace as a model, but instead was heavily influenced by French urban housing. The elevations to the blocks or 'fingers' are broken up by generous balconies and the roof line is broken up with small garden terraces, allowing each block to take on its own character.
Find out more about other homes we have developed here and keep an eye out for images of Bourbon Lane across London billboards.