24 December 2014
New affordable 4-bed homes make better lives for two local families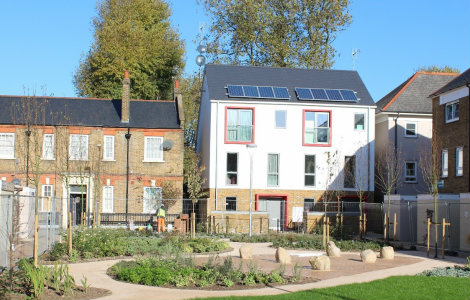 Two local families living in previously over-crowded accommodation are enjoying a fresh start since moving this month into stylish new four-bedroom homes in Kenley Walk, built by local housing provider Octavia.
The move has allowed the families to continue living in the borough where they live and their children go to school, in good-quality, affordable accommodation which is difficult to come by in Kensington.
New residents Nadine Houston and Jennifer Reynolds had been desperate to move out of their previous homes. Nadine's family of six had been living in a two-bedroom flat. She said she felt excited, moving into 2a Kenley Walk, that she and her children will no longer have to sleep in an overcrowded bedroom.
The kids are definitely happier here, and the extra storage space is great. I love the fact that I still live in the same borough, she added, which also meant that my kids didn't have to move schools, as that was one of my main concerns.
Each house consists of four bedrooms, a living room area, a kitchen-diner and both front and rear gardens. The homes have been built with maximum energy efficiency in mind. The new residents are the proud owners of triple-glazed windows, as well as solar panels.
I can definitely feel the advantages of having triple glazing, said Nadine. Sometimes I don't even hear a raindrop.
The opportunity to build the two new houses came about after Octavia identified space to build on land they already owned, which was being used by local residents as an informal community garden. A brand new landscape garden has been created as part of the development on the adjoining St Katherine's Square to preserve the neighbours' access to that open space.
David Callachan, Project Manager at Octavia, said of the development: "We saw an opportunity to build a small number of homes which we know are in great demand. Recreating the garden space was also an integral part of the development as the Estate's residents enjoyed the gardens and we wanted to maintain the community feel."
Jennifer Reynolds has moved into the house next door to Nadine. A full-time foster carer with three children of her own, her old two-bedroom flat was getting crowded. The move has been great for the family, she said. "My son has a disability, and has adapted really well; he loves having his own room. It also helps that I am familiar with this area, as my kids went to nursery nearby."
Octavia has thought of everything in regards to the house. It is beautiful, and the bonus is that there is a lot of storage space…The change feels like a dream come true.