17 March 2015
Tree planting marks beginning of landscaping at new extra care housing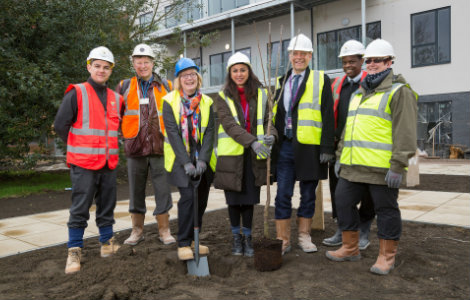 A tree planting ceremony today marked the beginning of landscaping at Hounslow Council's new extra care housing scheme, Park Lodge House.
Councillor Lily Bath, cabinet member for adult social care and health, planted the first tree in the communal garden which forms a central part of the new building.

The garden has been designed to provide an interesting and safe environment for residents to walk around. Featuring an activity room, greenhouse and pergola it offers lots of points of interest to encourage people to walk that little bit further and to get involved in activities.

There is easy access from communal spaces and the garden is fully enclosed so that people with dementia can walk safely and is overlooked to maintain safety.

Extra care housing is for people whose disabilities or frailty make ordinary housing unsuitable but who do not need or want to move to long term care, such as residential or nursing homes.

Its benefits include having the security and privacy of your own home with varying levels of on-site care and support.

Councillor Bath said:
I'm delighted to plant the first tree in the central garden at Park Lodge House. It's such a welcoming inviting outdoor space for residents, which will encourage them to exercise daily – which is really important for overall wellbeing. Extra care housing is an important part of Hounslow Council's strategy to prevent people needing residential and nursing care or hospital when it is not absolutely necessary. Moving into extra care schemes at the right time prevents vulnerable residents' needs increasing to a level where they are unable continue to live independently."

David Woods, Director of Development at Octavia Housing, said:
"Octavia is delighted to have worked in partnership with Hounslow Council to create an extra care sheltered scheme of 36 homes at Park Lodge House. The scheme will create a community where residents can live independently with 24 hour support and have the use of excellent communal facilities including the specially designed landscaped garden."

The scheme is commissioned by Hounslow Council and delivered by Octavia Housing. The first residents are due to move in over the summer months.