1 July 2015
A brand new extra care scheme opens in Hounslow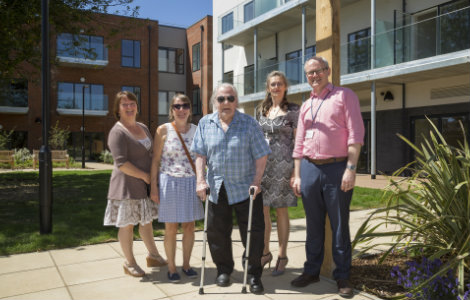 Park Lodge, a new, state of the art facility designed specifically for older Hounslow residents with extra care needs officially opens. The scheme, developed by local housing provider Octavia in close partnership with Hounslow Local Authority, is situated at Sutton Lane, Hounslow and provides 36 homes for older people.
On 30th June, Octavia held an open day where residents had therapeutic hand massages, a tour of the building and a light hearted interactive session about the joys of moving home.
Octavia have a successful reputation for building extra care schemes in other areas of London and while Park Lodge is Octavia's first extra care scheme in Hounslow, it is no exception – offering high quality design and an excellent standard of services.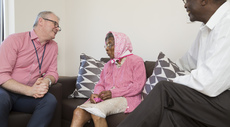 Neil McCarthy, Assistant Director of Care and Support said:
Octavia is really excited to be working with the London borough of Hounslow to deliver this new Extra Care scheme offering 24 hour support and care for the older people of Hounslow. The great facilities both inside and outside at this scheme provide the on-site staff opportunities to deliver activities and events to help the residents come together and avoid being isolated and lonely'
The scheme will support residents to lead better lives by supporting them to live independently in a safe, accessible and secure environment. Strengthening social lives and family relationships with the effect of reducing loneliness, institutional care and the need for overnight hospital care. The use of colour co-ordination on fixtures and fittings has been designed to support people with sensory impairment or dementia.
'I'm pleased Dad will receive 24/7 care here. His very excited to move in and is already looking happy and relaxed' (Julie)
A diverse group of care staff, with the ability of speaking in different languages has been recruited to support 36 residents, reflecting on the diversity of Hounslow's Age UK.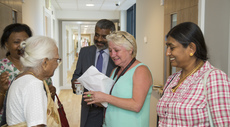 Martha Moran, Scheme Manager at Park Lodge House said
'The main ethos for Park Lodge is for residents to be happy, safe and empowered.'
Residents are expected to move in on 13 July. Each flat has its own bedroom, accessible shower room, lounge, washing machine, modern fitted kitchen including fridge/freezer, hob and oven. There is also a communal lounge and kitchen for preparing food for events with a good-sized landscaped secure garden and tele-care devices to support independent living.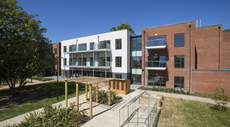 David Woods, Director of Development at Octavia Housing, said
The scheme will create a community where residents can live independently with 24 hour support and have the use of excellent communal facilities including a specially designed landscaped garden.'

To find out more about Park Lodge House and the facilities on site, please contact us on 020 8354 5586 or email support@octavia.org.uk