4 September 2015
Cllr Kaur cuts the ribbon at our brand new state of the art facility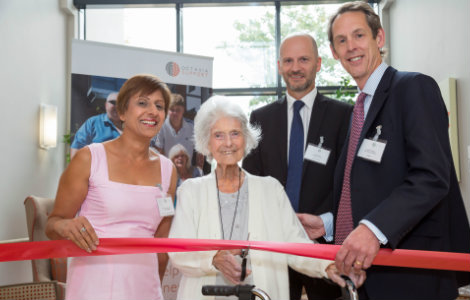 Councillor Kamaljit Kaur (Cabinet Member for Adult Social Care and Health Services) Maisie Wentworth-Jessop (Resident) David Smith (Managing Director, Willmott Dixon) and Grahame Hindes (Chief Executive Officer, Octavia)
Park Lodge, a new, state of the art facility designed specifically for older Hounslow residents with extra care needs officially opens. The scheme, developed by Octavia in close partnership with Hounslow Local Authority, is situated at Sutton Lane, Hounslow and provides 36 homes for older people.
On 3rd September, Octavia along with Hounslow Council held a garden party for residents and their families. The event was to celebrate the opening of the scheme and welcome key people who have made the scheme possible. Cllr Kaur (Cabinet Member for Adult Social Care and Health Services) was invited for the ribbon cutting ceremony which marks the official opening of the scheme.
Cllr Kaur said 'I was really pleased to be able to officially launch this lovely complex of homes. Park Lodge is in a lovely setting and gives people who need it the extra care they need to go on living at home rather than in a residential care home. As a council, we want to support our residents to remain independent for as long as possible.'
Octavia have a successful reputation for building extra care schemes in other areas of London and while Park Lodge is Octavia's first extra care scheme in Hounslow, it is no exception – offering high quality design and an excellent standard of services.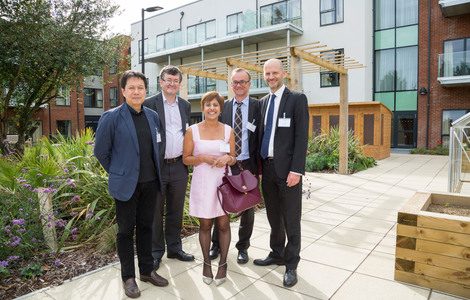 Neil McCarthy, Assistant Director of Care and Support said:
'Octavia is really excited to be working with the London borough of Hounslow to deliver this new Extra Care scheme offering 24 hour support and care for the older people of Hounslow. The great facilities both inside and outside at this scheme provide the on-site staff opportunities to deliver activities and events to help the residents come together and avoid being isolated and lonely.'
The scheme will support residents to lead better lives by supporting them to live independently in a safe, accessible and secure environment. Strengthening social lives and family relationships with the effect of reducing loneliness, institutional care and the need for overnight hospital care. The use of colour co-ordination on fixtures and fittings has been designed to support people with sensory impairment or dementia.
'I'm pleased Dad will receive 24/7 care here. His very excited to move in and is already looking happy and relaxed' (Julie)
A diverse group of care staff, with the ability of speaking in different languages has been recruited to support 36 residents, reflecting on the diversity of Hounslow.
Martha Moran, Scheme Manager at Park Lodge House said:
'The main ethos for Park Lodge is for residents to be happy, safe and empowered.'
30 residents have officially moved into the scheme. Each flat has its own bedroom, accessible shower room, lounge, modern fitted kitchen including fridge/freezer, hob and oven. There is also a communal lounge and kitchen for preparing food for events with a good-sized landscaped secure garden and tele-care devices to support independent living.

David Woods, Director of Development at Octavia Housing said:
The scheme will create a community where residents can live independently with 24 hour support and have the use of excellent communal facilities including a specially designed landscaped garden.'
Who is suitable for extra care housing?
You may be suitable if you live in the borough of Hounslow, have a combination of housing, support or care needs, which require assistance with daily living tasks. If you are 55 years or over and frail due to age or are 50 years or older and have, learning disabilities, mental health issues, physical or sensory disability.
To find out more about Park Lodge House and the facilities on site, please contact us on 020 8354 5586 or email enquiries@octavia.org.uk and ask for the care and support duty line.
Related articles: Councillor Lily Bath carrying out a tree planting ceremony