5 December 2017
Survey reveals that almost 1 in 4 Londoners worry about loneliness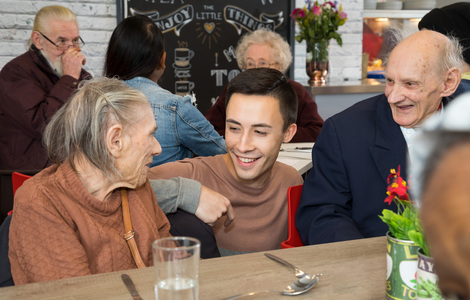 Almost a quarter of Londoners worry about feeling lonely according to new research from Ipsos MORI and Octavia.
Published to coincide with the launch of The Reed, a new Octavia community hub in west London, the survey shows that 23% of Londoners worry about feeling lonely and 29% feel they lack companionship often or some of the time.
While many people assume that loneliness is more prevalent with older people, the survey highlights the number of people who described themselves as feeling like they lack companionship does not vary by age.
In addition, both younger and older people are less likely than those aged 35-54 to say they feel in tune with people around them often or some of the time and over a quarter (27%) of younger people aged 15-34 agree that they would be embarrassed to admit feeling lonely compared to one in ten (12%) of older people aged 55 and over.
Overall, 30% of participants agreed that they spend too much time communicating with family and friends online when they should see them in person and this was most common among younger people (39% of those aged 15-34).
Octavia Chief Executive, Grahame Hindes, says loneliness can have a significant impact on wellbeing but local organisations are well placed to help:
"The research shows that loneliness can be experienced by anyone, whatever their age or situation. Organisations like Octavia, which have long established community connections, are well-placed to help. Our new intergenerational centre, The Reed, is a good example, turning what had become a tired building which provided Day Care for older adults into something better. Rather than simply re-build it, we re-imagined it."
Situated in the heart of Notting Hill, The Reed brings together the experience and expertise of a number of local partners to provide local people with a diverse range of activities and opportunities. It offers a Day Centre, a digital media facility equipped with industry standard film and music production equipment, a café and large activity space.
Grahame continues: "Part of what Octavia does is to provide care and support services. At its most basic, this involves supporting people and providing opportunities for them to socialise. There is a wealth of evidence to support the idea that regular social engagement benefits an individual's wellbeing and quality of life. For younger people, this can include learning new creative skills in industries they are interested in as well as making new friends. Both build confidence and social resilience. The Reed is a really great example of a number of local organisations coming together to benefit the whole community."
One of the services run by Octavia through The Reed is a befriending programme for older or isolated people. Amarjeet Sidhu, 83, who uses the programme, says: "I'm so happy that I enquired about the befriending service. It's made such a big difference to me. A lot of my friends are students, or working women. They're such lovely girls – such happy, smiling faces, it uplifts me! We talk about family, jobs – sometimes they even tell me about their love life! They tell me they're going on holiday, and through them I learn about new countries – I ask them to show me where they're going on the map. Octavia do a wonderful job, and I want them to flourish so that they can keep helping more people like me."
The official opening of The Reed on Wednesday 6 December will be attended by Mayor of Kensington and Chelsea, Councillor Marie-Therese Rossi, and Emma Dent Coad, MP for Kensington.
Councillor Marie-Therese Rossi says: "It's fantastic to see Octavia's new community hub open officially. The Reed provides a wonderful space for local people to come together, learn new skills and, most importantly, feel a sense of belonging. The Reed will help our community feel connection and inspiration, which is so vital to all of our lives."
For further information contact: jane.mccormick@octavia.org.uk, 07939 592965