8 March 2018
Pioneering woman honoured with plaque for International Women's Day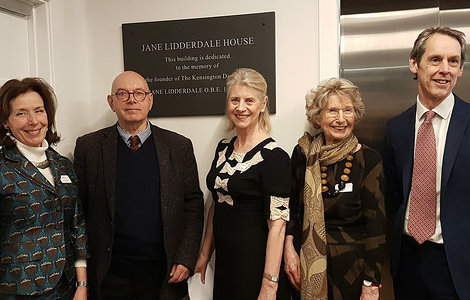 On Wednesday 7th March, the eve of International Women's Day, a plaque celebrating the work of Jane Lidderdale, was unveiled by her nephew, Edward Gretton, at The Reed on Convent Gardens in North Kensington. The Reed houses the Kensington Day Centre which Ms Lidderdale founded in 1963. Ms Lidderdale became the Founding Chairman of the day centre in 1963 and served as Chair for over 20 years until 1988. Ms Lidderdale also had a distinguished career in the civil service.
Ms Lidderdale was instrumental in setting up the original Kensington Day Centre, securing a site and funding. The aim was to provide older people with an opportunity to get out of the house and meet other people, with some services also being provided on site, such as a hot meal, hairdressing and chiropody. Ms Lidderdale was involved in the centre until shortly before her death in 1996.
The Kensington Day Centre has now been incorporated into The Reed, a newly built community Centre run by Octavia. The Reed provides supported housing for older people on the upper floors and a café on the ground floor. The Reed is also home to Base@TheReed, a digital club for younger people and Jane Lidderdale House, which houses 13 older people.
Vivien Thompson, Chair of the Friends of Kensington Day Centre, said:
"Jane Lidderdale was a truly pioneering woman, having a distinguished career in the Civil Service she was a real trailblazer for women in Whitehall as well as being the Founder of the Kensington Day Centre. Way back in the 1960s, she identified the need for a centre to provide a destination to get older people out of the house and maintain their interest in life.
"We, the committee of the Friends of Kensington Day Centre, the charity Jane founded and chaired, are proud to continue her work today in this beautiful new building."
Grahame Hindes, Chief Executive of Octavia, said:
"I'm pleased that Octavia and the Friends of Kensington Day Centre are honouring an inspirational woman, Jane Lidderdale. I am sure she would be pleased to know that we are carrying on her good works at The Reed."
Facts about Jane Lidderdale:
She played a leading role in organising the Festival of Britain in 1951
She was awarded an OBE in 1952
She was awarded an Honours degree in PPE from Oxford University
She was secretary and chief researcher for the Nathan Report on Trust Law
She was Chair of Byam Shaw School of Painting and Drawing
She wrote the book, Dear Miss Weaver, the biography of her godmother, Harriet Shaw Weaver, published in 1970
She was a senior civil servant and secretary to a number of cabinet committees during the Second World War