4 February 2019
Octavia caretaker celebrates 50 years of service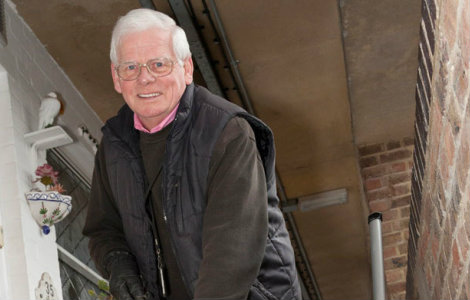 Octavia employee Dave Burford is celebrating 50 years as a resident caretaker for one of our housing schemes in west London.
Dave, who is 79 years old in February, started working as a resident caretaker at Crossways housing scheme in Notting Hill, W11, in 1968. He moved with his family to the adjacent Princes Place when that scheme opened in 1977 and has continued working as a resident caretaker there to this day.
Dave has seen a lot of changes during his time as both an Octavia resident and employee. When he married his wife Lorraine in 1965, the couple moved into an old Victorian terrace house in Princes Place.
"It was very basic living conditions. We had a couple of rooms but no inside toilet." said Dave. "The toilet was outside in the front garden.
"We made the most of it though. I did the place up a bit, particularly the garden. The housing people, who were Rowe Housing back then, were very impressed with what I did with the place. That's why when they built Crossways they asked me to be the caretaker."
The couple were relocated to a two bedroom flat at Crossways when it opened in the late 1960s and Dave agreed to take on the role of part-time caretaker.
"It was the first time I'd lived in a house with a bathroom," he said. "We thought the place was lovely."
Lorraine is even more of a W11 local than Dave. She has lived in the same neighbourhood, and as an Octavia tenant, her whole life. She was born at nearby Hayne House (also original a Rowe Housing property until the trust merged with Octavia in 1974) and lived there until she married.
Dave juggled his part-time caretaking duties with a full-time job as a telephone engineer, so he relied on his wife to help him out.
"Caretaking was always a husband and wife job back then," said Lorraine. "The wives did most of the cleaning around the estates while the husbands did all the heavy work."
When the Princes Place cottages were demolished and the site re-developed by Octavia into modern family housing, Dave was offered the role of resident caretaker there and the couple moved to a three bedroom bungalow at the scheme. They have lived at Princes Place ever since, raising two children along the way.
"We used to know everybody who lived here," said Lorraine. "A lot of the tenants were people I'd been to school with. Also, most of the old Princes Place tenants moved in here too so it was very much a community."
Dave added: "Everywhere I went people would offer me a cup of tea and want to chat. It was very sociable but it often took me a lot longer to do my patrols than I'd planned."
More than 40 years on and Dave is still faithfully doing his rounds at Princes Place – keeping the scheme clean and tidy and looking after the residents.
"This area has changed so much," he said. "There were many more shops in the streets around here when we moved in and practically a pub on every corner. There was one pub that had a public right of way through the middle of it. Everyone used to use it as a short cut through to the street – even the kids. The shops have all changed over the years and most of the pubs have been turned into offices or homes."
Dave has retired from working for BT, but has no plans to stop taking care of Princes Place.
"I don't want to stop – it's flexible working and only a few hours a week. I enjoy it so I intend to keep going for as long as I can," he said. "It takes me a little longer to get around the place than it used to, especially up and down the stairs, but I have no plans to retire yet.
"I like to keep the place tidy and I think keeping it nice encourages the residents to look after it too. I can't walk past something that needs sorting out and the work keeps me active, so while I can do the job and still have the time for it, I'll carry on."