25 November 2019
Octavia receives the Healthy Workplace Award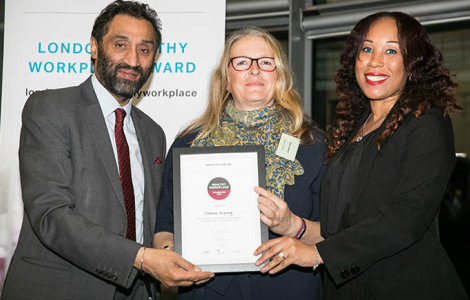 Octavia was among a number of organisations across the capital that were presented with the London Healthy Workplace Award at City Hall on Monday evening - and we are proud to be one of the first housing associations to receive this award from the Mayor of London.
Octavia gained the accreditation through displaying outstanding dedication to promoting health and wellbeing in the workplace for staff. From launching initiatives to combat work stress and promote employee autonomy, to training more mental health first aiders, Octavia has a diverse range of wellbeing tools on offer for our staff.
An accreditation scheme led by the Mayor of London's Office, the prestigious Healthy Workplace award is a framework for action that helps employers build good practice in health and wellbeing in their organisation.
Wendy Honeyghan, Octavia Assistant Director, Human Resources said: "Octavia is committed to staff wellbeing and has been working towards making the working environment 'healthier' for all staff through several new programmes inspired by consulting staff through a health needs assessment. By identifying our employees' top health concerns and involving them in an action plan to address these, we have been able to transform their concerns into positive change and use this as a basis for future wellbeing initiatives."
The London Healthy Workplace Award verifiers were particularly impressed with Octavia's senior management involvement with health and wellbeing development across the organisation, as well as a "comprehensive approach to health and safety including updates to training" and "good examples of reasonable adjustments provided".
Dr Tom Coffey OBE, Senior Adviser to the Mayor of London in Health Policy, said: "Creating and fostering healthy workplaces has benefits for both employers and staff, improving physical and mental wellbeing, and leading to increased productivity and creativity. We want better health for all Londoners, and the London Healthy Workplace Awards both celebrates best practice and offers guidance for organisations to improve work standards. I'd like to congratulate all the winners for their great work."