9 June 2020
All Octavia extra care schemes are rated 'good' by the CQC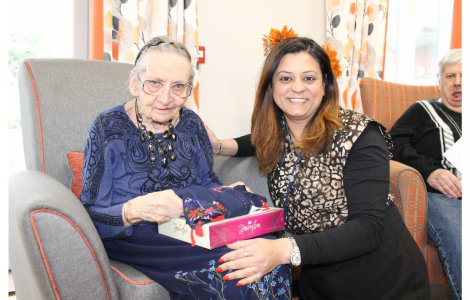 Three Octavia extra care schemes were recently inspected and rated 'good' by the independent regulator for health and social care, the Care Quality Commission (CQC).
Park Lodge House in Hounslow, and Highlever Road, a specialist dementia scheme in North Kensington, both retained good ratings in all areas of safety, effectiveness, caring, responsiveness and being well-led when inspected by the CQC in February 2020.
The third scheme, Burgess Fields, where we provide care and support services to residents of the Royal Borough of Kensington and Chelsea in North Kensington, was rated 'good' across all areas, demonstrating an improvement from a previous inspection in January 2019.
As a result of the latest inspections, all seven of Octavia's extra care schemes have been given a 'good' service rating across all areas by the regulator. Two schemes, James Hill House in Kensington and Leonora House in Maida Vale, have been rated as 'outstanding' for responsiveness.
Octavia's Assistant Director, Care and Support, Neil McCarthy, said:"Octavia care staff work hard to provide good quality, compassionate care and support for people in our extra care schemes. We are very pleased that the impact of their work has been recognised as meeting the high standard of care that is expected by the regulator.
"We aim to make a real difference to the lives of the people who live in our schemes, this means understanding and meeting, often, complex needs of individuals, supporting our staff and rewarding excellence, and continually striving for improvement in the care services we provide."
A summary of the CQC's findings in the three extra care schemes are as follows:
Park Lodge House - The CQC found that staff were responsive to people's individual needs and knew them well. People who used the service and their relatives were happy with the service they received. Staff were found to be kind, caring and respectful and people felt their needs were being met. There were systems in place for monitoring the quality of the service and making continuous improvement. Staff were happy and felt well supported. To read the full report, go to: https://www.cqc.org.uk/location/1-2129291436
Highlever Road (specialist care for older people who have dementia) - People and their relatives praised the service at this scheme. Staff displayed positive and compassionate approaches, reassuring people, communicating well and offering choices. People's life stories and what they liked were well understood by care workers and used to help people reminisce. Staff responded to people's wishes and planned activities to meet these and prevent isolation and encouraged people to remain independent. It was found to have a high standard, dementia-friendly environment, and provided personalised care planned to meet needs. People had access to a wide range of activities in which families were encourage to participate. Systems for continuous improvements and staff learning were in place. To read the full report, go to: https://www.cqc.org.uk/location/1-118991596
Burgess Fields – This scheme was found to be well managed and delivering effective care and support in all areas in 'an environment where people felt safe and where diverse needs were understood and respected.' Care and support was effective and people interacted positively with all staff members. 'The staff team knew people well and fully understood how people communicated.' Relatives of residents were confident in the level of care being delivered and how well they are kept informed. They said staff were responsive and updated them about incidents effecting their family members. The management and staff team were proactive with improving the quality of the service and were promoting a positive culture that is person-centred, open, inclusive and empowering, to achieve good outcomes for people. To read the full report, go to: https://www.cqc.org.uk/location/1-1807464385
For more information on Octavia extra care schemes go to: https://www.octaviasupport.org.uk/our_services/extra_care_housing