21 October 2019
Octavia receive 'Gold' accreditation for sustainability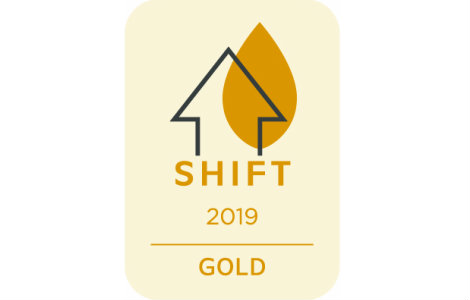 Octavia has achieved a 'Gold' accreditation in our recent SHIFT assessment, a sustainability standard specifically for the housing sector.
This recognises our commitment to sustainability across the organisation and our commitment to provide energy efficient, well maintained homes for our residents.
We've been ranked 4th highest out of the latest 40 UK housing providers to be assessed.
The assessment commended our corporate approach to sustainability - we deliver new homes built to high sustainability standards and have a target to bring all our homes up to a good energy efficient standard by 2023. We are working to achieve this through our rolling programme of cyclical maintenance and repairs.
The report states: "Octavia has achieved gold standard with a score of 62.22." This is an increase from our previous gold accreditation in 2018 of 59.57.
As always there are areas to improve. For example, supporting residents with advice on energy saving measures. We are also reviewing ways to reduce the environmental impact of our head office. These are areas that we are starting to look at as part of Octavia's response to delivering net zero carbon emissions.